Gusseted Poly Bags at Wholesale Prices!
Gusseted poly bags have expandable sides or bottom allowing for more fillable space when opened.
International Plastics is a manufacturer and wholesale supplier of Gusseted Poly Bags, stocking a massive inventory Ready for Same Day Shipping in a variety of sizes for various applications.
Poly Gusseted Bags
A poly Gusset Bag has sides or a bottom that allow you to package thicker or bulkier, larger items by having extra material on the sides or bottom that expand. Gusseted bags are excellent for displaying multiple-piece products. There are four common styles of gusset bags:
Flat Bottom or FB Gusset Bags can be clear with a flat bottom and are very often shaped like a brown paper lunch bag.
Heavy Duty or HD side gusset poly bags have an area in the back of the bag where the seal is and they are made from a thicker mil poly, which therefore makes them much more durable or stronger.
Standard Poly Bags or GB Gusset Bags are very often clear and almost always have no back or side seams. A common example is seen in standard garbage bags.
Bottom Gusset or BG Bags work great for being placed in a container or basket.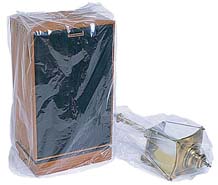 Loose Packed
Gusseted Poly Bags
An expandable pleat on both sides of a gusseted bag gives you plenty of space for bulky items.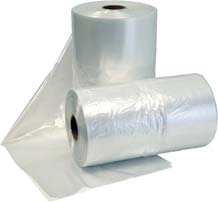 Gusseted Poly Bags
on Rolls
International Plastics boasts a large variety of gusseted poly bags on rolls in 5 thicknesses.