Custom Printed Poly Mailer Frequently Asked Questions
What Benefits Custom Printed Mailers?
Online and brick and mortar businesses benefit from shipping products to customs using poly mailers because when it comes to your shipping cost as a business, weight matters. Lightweight poly mailers reduce your shipping costs as a merchant so you can offer more competitive pricing to your customers. Here are some additional benefits of using a poly custom mailer for shipping orders to customers.
Typically, cheaper to purchase than Kraft or corrugated shipping solutions
Weatherproof and prevent water damage.
Very thin, so they take up less storage space than boxes.
Durable and don't easily get torn.
Sometimes reusable, depending on how they are designed.
Why Your Company Should Use Custom Printed Poly Mailers?
Using a custom printed mailers offer many types of business such as High-end luxury items, health, and wellness, beauty products such as skin or hair care, art, jewelry, home goods, clothing such as t-shirts, pants, and digital products such as CD's and video games an opportunity to increase brand awareness. By using a custom shipping mailer do not only increase yor brand awarness there are several additional benifits that could increase your overall revenue and life time value of your customers.
The below video outlines some of these additional reasons why using a custom printed poly mailer is a good idea for your bussiness.
What can I ship in a Custom Mailer?
Poly mailers are Ideal for shipping apparel, t-shirts, and non-fragile items. Lightweight and inexpensive to ship, our poly mailers are tear-resistant.

When Ordering Custom Printed Poly Envelpes What Size Do I Need?
Shipping mailers with custom print are Ideal for shipping apparel, t-shirts, soft goods, non-fragile items, and many other things. The first thing you need to do when getting custom printed poly mailers is to determine the right size to be printed on.

A common method used to determine the correct size is to place the item being shipped on top of the mailer. If the item does not go outside of the poly mailer's length or width, then you might assume this is the correct size. Well, this method does not always work because most items have a third dimension.

To find the right size poly mailer you will need to do more than eyeballing the shape and size of the item to be shipped. Below you will find a chart with items frequently shipped with mailers. Also, you can use our "Size Calculator" to find the right size. Simply measure the items, width, length, and depth and our poly mailer size calculator will give you the minimum size you need.

Custom Poly Mailer Size Guide & Calculator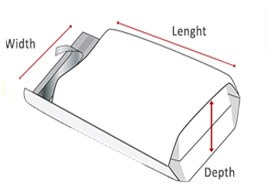 Do You Have Stock Poly Mailers With No Print?
We sure do! We offer several diffrent styles, white flat mailers, bubble lined mailers, clearview mailers, diffrent color mailers and 80+ sizes. Click here to view all of our in-stock poly mailers.
I have another question.
Feel free to contact us here for any other questions or concerns.