{"@context": "http://schema.org","@type":"Product","productID":"PBAF43648","mpn":"PBAF43648","sku":"PBAF43648","url":"https://www.interplas.com/36-x-48-4-mil-antistatic-poly-bags-p-pbaf43648","image":"https://www.interplas.com/product_images/125/PBAF43648.jpg","name":"36x48 Poly Bags - Pink Anti-Static","brand":"International Plastics","description":"36 x 48 4 mil anti-static plastic poly bags used for packaging products that need antistatic protection. 36 x 48 .004 anti-static poly bag protect against ESD damage. . 36 x 48 4 mil antistatic polybags are made from low density polyethylene and can be recycled. . These 36 x 48 .004 pink anti static plastic bags feature impressive clarity, durability and make storage and organization simple for industrial, food service and healthcare applications. These plastic lay flat amine free 36 by 48 inch bags can be sealed by using twist ties, bag tape or by heat sealing. .","offers": [{"@type":"Offer","name":"36x48 Poly Bags - Pink Anti-Static","priceCurrency":"USD","availability":"http://schema.org/InStock","price":"240.55","sku":"PBAF43648","url":"https://www.interplas.com/36-x-48-4-mil-antistatic-poly-bags-p-pbaf43648"}]}
Pink 36" x 48" 4 mil Anti-Static Poly Bags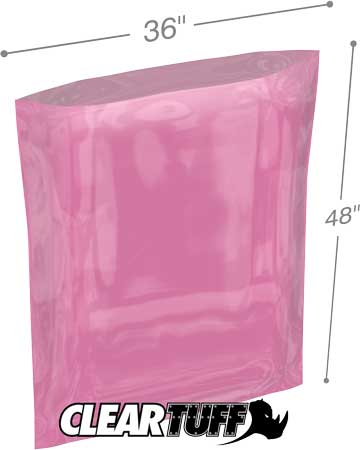 Stock #: PBAF43648
W x L: 36" x 48"
Weight: 33.0 lbs

Qty/Case:

75

Thickness:

4 mil
Stock #:

PBAF43648

W x L:

36" x 48"

Weight:

33.0 lbs

Qty/Case:

75

Thickness:

4 mil

Fully Customize This Item
MSRP

$288.66

1 Case:

$240.55

You Save 16.7%

5 Cases:

$233.35

You Save 19.2%

10 Cases:

$228.45

You Save 20.9%

11 + Cases:

Get a Quote
36" x 48" 4 mil Anti-Static Poly Bags
Stock #: PBAF43648
GTIN: 00631546006043
36" x 48" 4 mil anti-static plastic poly bags used for packaging products that need antistatic protection. 36" x 48" .004 anti-static poly bag protect against ESD damage. 36" x 48" 4 mil antistatic polybags are made from low density polyethylene and can be recycled. These 36" x 48" .004 pink anti static plastic bags feature impressive clarity, durability and make storage and organization simple for industrial, food service and healthcare applications. These plastic lay flat amine free 36 by 48 inch bags can be sealed by using twist ties, bag tape or by heat sealing.
Get as creative as you want with your packaging. Use a roll on label or customize.
36" x 48" 4 mil Anti-Static Poly Bags Specifications
Material: Amine-free Polyethylene
Color: Pink
Width: 36 inches
Length: 48 inches
Recyclable: Yes
---
Customers Who Purchased this Product Also Browsed...