{"@context": "http://schema.org","@type":"Product","productID":"PML0833","mpn":"PML0833","sku":"PML0833","url":"https://www.interplas.com/8.5-x-33-long-poly-mailers-p-pml0833","image":"https://www.interplas.com/product_images/125/PML0833.jpg","name":"8 1/2 x 33 Long Poly Mailer","brand":"","description":"These 8.5 x 33 Long Poly Mailer Envelopes are made from 2.5 Mil polyethylene and are water-resistant, lightweight and puncture resistant. These flexible long Poly Mailer Envelopes are great for shipping wallpaper, fabric and parts. Our long Poly Mailer Envelopes feature a self-seal closure on one end, are the ultimate in quality and lightweight for low cost postage, 100 per case. S-13649, LPM833 . Custom Printing Available.","offers": [{"@type":"Offer","name":"8 1/2 x 33 Long Poly Mailer","priceCurrency":"USD","availability":"http://schema.org/InStock","price":"74.7","sku":"PML0833","url":"https://www.interplas.com/8.5-x-33-long-poly-mailers-p-pml0833"}]}
8.5" x 33" Long Poly Mailers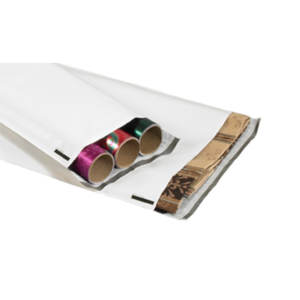 Stock #: PML0833
W x L: 8.5" x 33"
Weight: 7.0 lbs

Qty/Case:

100
Stock #:

PML0833

W x L:

8.5" x 33"

Weight:

7.0 lbs

Qty/Case:

100

Fully Customize This Item
MSRP

$89.64

1 Case:

$74.70

You Save 16.7%

4 Cases:

$72.30

You Save 19.3%

10 Cases:

$70.05

You Save 21.9%

11 + Cases:

Get a Quote
8.5 x 33 Long Poly Mailing Bags
Stock #: PML0833
These 8.5 x 33 Long Poly Mailers are made from 2.5 Mil polyethylene and are water-resistant, lightweight and puncture resistant. These flexible long poly mailers are great for shipping wallpaper, fabric and parts. Our long poly mailers feature a self-seal closure on one end, are the ultimate in quality and lightweight for low cost postage, 100 per case. Custom Printing Available.
8.5 x 33 Long Poly Mailing Envelope Specifications
Type: Poly Mailer Envelopes
Material: Polyolefin
Color: White
Width: 8.5 inches
Height: 33 inches
Recyclable: Yes
Box Partners LPM833
Uline S-13649
You May Also Be Interested in...