{"@context": "http://schema.org","@type":"Product","productID":"PMB0712-25","mpn":"PMB0712-25","sku":"PMB0712-25","url":"https://www.interplas.com/7.25-x-12-poly-bubble-mailers-p-pmb0712-25","image":"https://www.interplas.com/product_images/125/PMB0712-25.jpg","name":"7 1/4 x 12 Bubble Poly Mailer","brand":"","description":"7.25 x 12 Poly Bubble Mailer Envelopes combine the moisture resistance of a polyolefin bag with the cushioning of a 3/16 bubble bag providing great protection for your shipped goods. These peel and seal bubble lined Poly Mailer Envelopes are lightweight Mailer Envelopes that are tamper and tear resistant. S-7544, B83225PK . Custom Printing Available.","offers": [{"@type":"Offer","name":"7 1/4 x 12 Bubble Poly Mailer","priceCurrency":"USD","availability":"http://schema.org/InStock","price":"14.5","sku":"PMB0712-25","url":"https://www.interplas.com/7.25-x-12-poly-bubble-mailers-p-pmb0712-25"}]}
7.25" x 12" Bubble Poly Mailers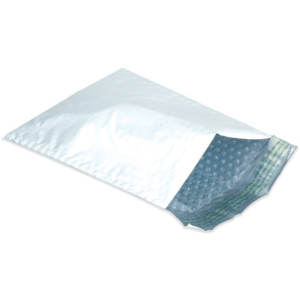 Stock #: PMB0712-25
W x L: 7.25" x 12"
Weight: 2.0 lbs

Qty/Case:

25
Stock #:

PMB0712-25

W x L:

7.25" x 12"

Weight:

2.0 lbs

Qty/Case:

25

Fully Customize This Item
MSRP

$17.40

1 Case:

$14.50

You Save 16.7%

4 Cases:

$14.35

You Save 17.5%

10 Cases:

$14.20

You Save 18.4%

11 + Cases:

Get a Quote
7.25 x 12 Bubble Poly Mailing Envelopes
Stock #: PMB0712-25
7.25 x 12 Poly Bubble Mailers combine the moisture resistance of a polyolefin bag with the cushioning of a 3/16" bubble bag providing great protection for your shipped goods. These peel and seal bubble lined poly mailers are lightweight mailers that are tamper and tear resistant. Custom Printing Available.
7.25 x 12 Bubble Poly Mailing Envelope Specifications
Type: Bubble Lined Poly Mailer Envelopes
Material: Polyolefin
Color: White
Width: 7.25 inches
Height: 12 inches
Recyclable: Yes
Box Partners B83225PK
Uline S-7544
You May Also Be Interested in...