{"@context": "http://schema.org","@type":"Product","productID":"SF0309","mpn":"SF0309","sku":"SF0309","url":"https://www.interplas.com/3in-90-gauge-stretch-bundling-film-p-sf0309","image":"https://www.interplas.com/product_images/125/SF0309.jpg","name":"3 x 1000' 90 ga Stretch Film","brand":"International Plastics","description":"Our 90ga 3 x 1000' Bundling Stretch Wrap retains its grip and sticks to itself without adhesives. The clear residue free film stretches up to 100%, which contributes to its excellent resistance against tearing. The easy to use roll increases efficiency, and the clear cast film enables easy identification during shipping. Our 3 x 1000' x 90 Ga Bundling Stretch Film is an economical alternative to Strapping, Poly Tying Twine, or Sisal Twine. This Product is similar to Uline S-4208","offers": [{"@type":"Offer","name":"3 x 1000' 90 ga Stretch Film","priceCurrency":"USD","availability":"http://schema.org/InStock","price":"50.1","sku":"SF0309","url":"https://www.interplas.com/3in-90-gauge-stretch-bundling-film-p-sf0309"}]}
3" x 1000' x 90 Ga Bundling Stretch Film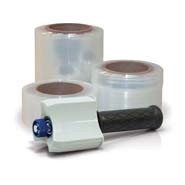 Stock #: SF0309
W x L: 3" x 1000'
Weight: 20.6 lbs

Qty/Case:

18 RLS

Thickness:

90 ga
Stock #:

SF0309

W x L:

3" x 1000'

Weight:

20.6 lbs

Qty/Case:

18 RLS

Thickness:

90 ga

Fully Customize This Item
MSRP

$60.12

1 Case:

$50.10

You Save 16.7%

5 Cases:

$48.65

You Save 19.1%

10 Cases:

$47.30

You Save 21.3%

11 + Cases:

Get a Quote
90ga 3" x 1000' Bundling Stretch Wrap
Stock #: SF0309
GTIN: 00631546049293
Our 90ga 3" x 1000' Bundling Stretch Wrap retains its grip and sticks to itself without adhesives. The clear residue free film stretches up to 100%, which contributes to its excellent resistance against tearing. The easy to use roll increases efficiency, and the clear cast film enables easy identification during shipping. Our 3" x 1000' x 90 Ga Bundling Stretch Film is an economical alternative to Strapping, Poly Tying Twine, or Sisal Twine.


90ga 3" x 1000' Bundling Stretch Wrap Specifications
Type: Bundling
Material: Cast Polyethylene Film
Color: Clear
Width: 3 inches
Height: 1000 feet
Thickness: 90 Gauge
Recyclable: Yes
---
Customers Who Purchased this Product Also Browsed...