{"@context": "http://schema.org","@type":"Product","productID":"SMAC200","mpn":"SMAC200","sku":"SMAC200","url":"https://www.interplas.com/8-in-constant-heat-automatic-sealer-p-smac200","image":"https://www.interplas.com/product_images/125/SMAC200.jpg","name":"8 Automatic Constant Heat Sealer","brand":"AIE","description":"The 8 Automatic Constant Heat Sealer is excellent for sealing polycello films, humidity-proof cellophane film, polyethylene film, aluminum foil coated bags and gusset bags. A beautiful mesh seal, 15.875mm wide by 8 inches is created. This Constant Heat Automatic Sealers is ideal for producing wide seals of heavier bags. This 8 in. constant heat automatic sealer is equipped with a temperature controller and beeper signal to notify operator when the sealing is complete. This 8 inch constant heat automatic sealer has a 15.875mm sealing width that can seal up to 20 mil thickness, and has a wattage of 350. Each machine has been injection mold cast and electro static painted for durability. Includes an electric foot pedal for manual operation. ","offers": [{"@type":"Offer","name":"8 Automatic Constant Heat Sealer","priceCurrency":"USD","availability":"http://schema.org/InStock","price":"883.3","sku":"SMAC200","url":"https://www.interplas.com/8-in-constant-heat-automatic-sealer-p-smac200"}]}
8" Automatic Constant Heat Sealer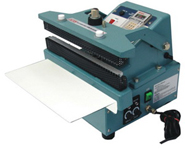 Stock #: SMAC200
Width: 8"
Weight: 40.0 lbs

Qty/Each:

1
Stock #:

SMAC200

Width:

8"

Weight:

40.0 lbs

Qty/Each:

1
MSRP

$1,059.96

1 Each:

$883.30

You Save 16.7%

3 Each:

$854.80

You Save 19.4%

5 Each:

$828.10

You Save 21.9%

6 + Each:

Get a Quote
8 in. Automatic Constant Heat Sealer
Stock #: SMAC200
GTIN: 00631546027949
The 8" Automatic Constant Heat Sealer is excellent for sealing polycello films, humidity-proof cellophane film, polyethylene film, aluminum foil coated bags and gusset bags. A beautiful mesh seal, 15.875mm wide by 8 inches is created. This Constant Heat Automatic Sealers is ideal for producing wide seals of heavier bags. This 8 in. constant heat automatic sealer is equipped with a temperature controller and beeper signal to notify operator when the sealing is complete. This 8 inch constant heat automatic sealer has a 15.875mm sealing width that can seal up to 20 mil thickness, and has a wattage of 350. Each machine has been injection mold cast and electro static painted for durability. Includes an electric foot pedal for manual operation.
8" Automatic Constant Heat Sealer Specifications
Type: 15.875mm constant heat automatic sealer
Width: 8 inches
Seal Width: 15.875mm
Max. Seal Thickness: 20 mil
Watts: 350 W
You May Also Be Interested in...
---
Customers Who Purchased this Product Also Browsed...