{"@context": "http://schema.org","@type":"Product","productID":"SMB882","mpn":"SMB882","sku":"SMB882","url":"https://www.interplas.com/vertical-band-sealer-p-smb882","image":"https://www.interplas.com/product_images/125/SMB882.jpg","name":"Vertical Band Sealer","brand":"AIE","description":"Vertical continuous band sealers seal your bags in a upright position. Ideal for sealling spillable items such as liquids, powder and grains. Equipped with conveyor speed of 0~40 ft. per minute, plastic material thickness of up to 20 mil and unlimited length. This vertical PTFE band sealer can also emboss alpha numeric information on seal, and has a 0~527 degree F of sealing heat that can seal up to 20 mil thickness, and has a wattage of 500. Electric foot pedal and work shelf included. ","offers": [{"@type":"Offer","priceCurrency":"USD","availability":"http://schema.org/InStock","price":"2750","name":"Vertical Band Sealer","sku":"SMB882","url":"https://www.interplas.com/vertical-band-sealer-p-smb882"}]}
Vertical Band Sealer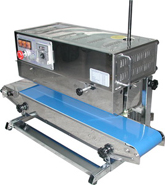 Stock #: SMB882
Weight: 82.0 lbs

Qty/Each:

1
Stock #:

SMB882

Weight:

82.0 lbs

Qty/Each:

1
MSRP

$3,300.00

1 Each:

$2,750.00

You Save 16.7%

3 Each:

$2,661.30

You Save 19.4%

5 Each:

$2,578.10

You Save 21.9%

6 + Each:

Get a Quote
Vertical Band Sealer
Stock #: SMB882
GTIN: 00631546021107
Vertical continuous band sealers seal your bags in a upright position. Ideal for sealing liquids, powders and grains. Equipped with conveyor speed of 0~40 ft. per minute, plastic material thickness of up to 20 mil and unlimited length. This vertical PTFE band sealer can also emboss alpha numeric information on seal, and has a 0~527 degree F of sealing heat that can seal up to 20 mil thickness, and has a wattage of 500. Electric foot pedal and work shelf included.
Vertical Band Sealer Specifications
Type: Vertical Continuous Band Sealer
Seal Strength: 0~527 degree F
Max. Seal Thickness: 20 mil
Watts: 500 W
You May Also Be Interested in...
---
Customers Who Purchased this Product Also Browsed...