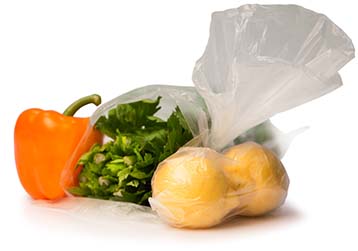 Produce Bags on a Roll
An economical choice for wholesale produce bags!
Our Plastic Produce Bags on rolls offer savings for you and quality for your customers.
Great for grocery produce for use as grocery produce bags and farmers market
bags. We offer both HDPE produce bags and low-density bags also known as
LDPE. Made of 100% virgin Low-Density Polyethylene
(LDPE) resin or High-Density Polyethylene (HDPE) resin, which meets all USDA and FDA
requirements for food contact.
We also offer a Produce Bag Dispenser and Vented Produce Bags
USDA certified plastic produce bags.
If you are new to our industry, you may not know exactly what kind of bag you need for your application. What does "mil" mean?
How are these bags measured? Plastic bags are available in a variety of thicknesses (mil) with unique uses and advantages ranging from .5 mil to 6 mil. The mil refers to the gauge or thickness of the bag. For instance, a 1 mil bag is fine for packing a sandwich for lunch, while a 6 mil bag will contain sharp objects like nails or jagged rocks. Plastic bags are measured width first and length second for example 8" wide x 10" long, like in this example. The sizes are from side to side and have a bottom seal. Also, they're open at the top, which can be sealed by a twist tie, rubber band, bag tape or by heat sealing. Choose your produce bag below!