{"@context": "http://schema.org","@type":"Product","productID":"FOP1117","mpn":"FOP1117","sku":"FOP1117","url":"https://www.interplas.com/11-x-17-produce-bags-on-roll-p-fop1117","image":"https://www.interplas.com/product_images/125/FOP1117.jpg","name":"11x17 Plain Produce Bag On Roll","brand":"International Plastics","description":"11 x 17 produce bags on a roll used for hanging are perfect for food like fruit, vegetables, meats and cheeses. 11 x 17 plastic produce bags can also be used for lightweight items at gift shops or antique stores. FDA / USDA approved for food contact.","offers": [{"@type":"Offer","name":"11x17 Plain Produce Bag On Roll","priceCurrency":"USD","availability":"http://schema.org/InStock","price":"42.1","sku":"FOP1117","url":"https://www.interplas.com/11-x-17-produce-bags-on-roll-p-fop1117"}]}
11" x 17" Clear Produce Bags on Roll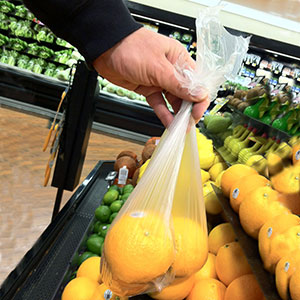 Stock #: FOP1117
W x L: 11" x 17"
Weight: 17.0 lbs

Qty/Case:

3200

Thickness:

0.5 mil
Stock #:

FOP1117

W x L:

11" x 17"

Weight:

17.0 lbs

Qty/Case:

3200

Thickness:

0.5 mil

Fully Customize This Item
MSRP

$50.52

1 Case:

$42.10

You Save 16.7%

5 Cases:

$41.25

You Save 18.3%

10 Cases:

$40.45

You Save 19.9%

11 + Cases:

Get a Quote
11 x 17 0.5 Mil Produce Bags on Roll - 4 rolls per case / 800 bags per roll
Stock #: FOP1117
GTIN: 00631546057182
11" x 17" produce bags on a roll used for hanging are perfect for food like fruit, vegetables, meats and cheeses. 11 x 17 plastic produce bags can also be used for lightweight items at gift shops or antique stores. Manufactured with 100% virgin resins, meets USDA/FDA requirements for food contact. 4 rolls per case / 800 bags per roll = total 3200 bags.
11 x 17 0.5 Mil Produce Bags on Roll Specifications
Type: Produce Poly Bags
Material: High Density Polyethylene
Color: Clear
Width: 11 inches
Height: 17 inches
Thickness: 0.5
Weight: 16 lbs.
Recyclable: Yes
---
Customers Who Purchased this Product Also Browsed...