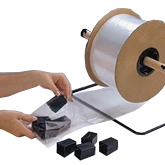 1.5 Mil Auto Bags
Need to automatically bag and protect your product efficiently with little to no finagling? These light weight 1.5 mil Auto Bags are just what you need. These pre-opened packaging bags are separated by perforations with a one-sided opening for manually hand filling or using an automatic bag loading machine. Our 1.5 Mil Auto Bags meet FDA/USDA specifications and are safe for packaging food products.
Other thicknesses of auto bags we offer
Please Note: These automated pre-opened bags on roll are similar to, but not the Autobag® brand.
Need a Custom Quote for a Custom Printed Auto Bags?