{"@context": "http://schema.org","@type":"Product","productID":"TT-NT-11B","mpn":"TT-NT-11B","sku":"TT-NT-11B","url":"https://www.interplas.com/11in-black-plastic-nylon-cable-ties-p-tt-nt-11b","image":"https://www.interplas.com/product_images/125/TT-NT-11B.jpg","name":"11 Nylon Cable Ties","brand":"International Plastics","description":"11 Nylon Tamper Evident Black Cable Ties - 50 pound tensil strength Our Black 11 inch Nylon Cable Ties are Tamper Evident to help secure bags, electrical wire, cables or plastic piping permanently. This Product is similar to Uline S-5832","offers": [{"@type":"Offer","name":"11 Nylon Cable Ties","priceCurrency":"USD","availability":"http://schema.org/InStock","price":"58.9","sku":"TT-NT-11B","url":"https://www.interplas.com/11in-black-plastic-nylon-cable-ties-p-tt-nt-11b"}]}
11" Black Cable Ties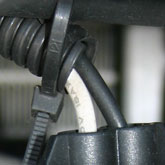 Stock #: TT-NT-11B
Weight: 5.0 lbs

Qty/Case:

1000
Stock #:

TT-NT-11B

Weight:

5.0 lbs

Qty/Case:

1000
MSRP

$70.68

1 Case:

$58.90

You Save 16.7%

5 Cases:

$54.20

You Save 23.3%

10 Cases:

$49.90

You Save 29.4%

11 + Cases:

Get a Quote
11 inch Nylon Black Cable Ties - 50 Pound Tensile Strength
Stock #: TT-NT-11B
GTIN: 00631546020926
Our Black 11 inch Nylon Cable Ties are Tamper Evident to help secure bags, electrical wire, cables or plastic piping permanently. Self-locking seal forms a durable, no-release, no-slip. UL approved. Ties are easy to use: just insert tapered tip into lock, tighten tension, trim off excess. Black Cable Ties stay locked permanently and will not stretch. Heavy Duty Nylon Cable Ties are the strongest solutions for all heavy wire & difficult cable management needs, HVAC duct installation and repair, automotive detailing or car organization as well as law enforcement and any sort of around the house project. They have a tensil strength of 50 pounds and come 1,000 to a case.
You May Also Be Interested in...
---
Customers Who Purchased this Product Also Browsed...