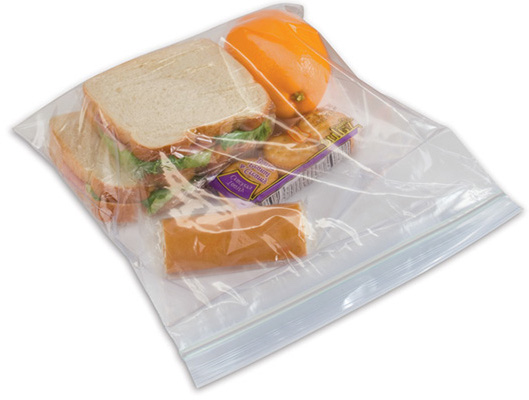 One Gallon Zipper Locking Reclosable Bags
Our Gallon-size zipper locking bags can be used daily for shipping, packaging, and storage applications. Also, plastic zip top lock freezer bags are not just for food storage around the house. They are also great for carrying a variety of items such as sunscreen, sun tan lotion, toys, diapers, lip gloss, rain ponchos, hand sanitizer, wipes,and even your camera and binoculars.

Whether you are heading to the beach or to the stadium, we have many different one gallon resealable plastic storage bag options. Need a customized 1 gallon zipper locking storage bag for your business or event?
Get a Quote for Custom Printed Reclosable Bags
1 Gallon Plastic Resealable Bags
Gallon size clear zipper lock-top bags with die cut handle increase fan safety and experience at NFL games

Have you heard about the new stadium policy for the NFL and some college stadiums? Fan are only allow to enter NFL statidum's with 1 bag which can be an Offical NFL clear tote bag, a one gallon plastic zipper locking/freezer bag no larger than 12" 6" x 12", or a clutch purse. The NFL hopes the "All Clear" bag policy will enable fans to move faster thought security checkpoints and will add an additional layer of fan safety and security improving the overall fan experience.

You don't have to buy the Official NFL Clear Plastic Tote Bags. A great alternative is our NFL Approved Reclosable Zip Top Handle Plastic Bags.

As a leader in the industry, International Plastics designed an alternative bag that NFL teams, starting with the 49ers, could distribute during preseason games and beyond. Soon the Jaguars, Colts and Raiders began to use these bags too.

Now these 12" x 12" clear die cut handle zipper bags are available to all of our customers. These die cut style clear ziptop handle bags are perfect not only to take to the stadium but for many different applications like marketing clothing, magazines and brochures, educational supplies, and orientation packets all with a comfortable easy to carry handle.
Watch Videos Explaining The "All Clear" Plastic Bag Policy

PLESE NOTE: Our 1 gallon Clearzip locking bags are not affiliated with consumer brands Glad®, Hefty®, or Ziploc®. Ziploc® is a registered brand of SC Johnson & Son™ Inc.