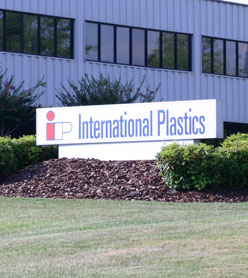 International Plastics Company Bio
An entrepreneurial legacy that is the epitome of "The American Dream."
In 1964 Greenville, SC was known as the "textile capital" of the world. In fact, Greenville accounted for 45 percent of all new industrial construction in South Carolina, a figure then equal to the combined construction in Virginia and Maryland. Greenville County boasted over twenty thousand textile employees.¹ Greenville was the place to be and the economy was booming.
Even in the best of times starting a business was still a scary proposition for a 38 year old raising four young kids at the time. But like most World War II vets of that era, J.R. McClure was up to the challenge. With the determination of the "greatest generation" and a $500 dollar loan from his mother, he and his wife, Frances, started an entrepreneurial journey in the flexible packaging industry that has lasted five decades.
J.R. found a niche opportunity to convert polyethylene film into plastic bags primarily for the textile industry. The plastic (polyethylene) industry was in its infancy. J.R's passion for mass promotion helped him market his products by "direct mail" to the purchasing agents of textile mills. It was as if he had found three niches all at once.
The Company remained small through the mid 70's, operating with only two employees. Like most family business it was not planned for family to enter, rather just a natural progression of things. In 1976 Carolyn was the first of the five McClure children to enter the business. With the additions of Steve in 1977, Jon in 1978, Rob in 1985, and Mark in 1989, the Company started to experience rapid growth. Rob and Jon have since left the family business to pursue their own entrepreneurial dreams. In 1988 ground was broken for new offices and a warehouse at the current location of 185 Commerce Center. Since that time three major expansions have occurred adding more than 64,000 sq. ft. of warehouse and 11,000 sq. ft. of offices.
International Plastics continues to thrive as a second-generation, family business that now employs 40+ full-time associates. From inception, its mission has been simple: "To help customers succeed by providing complete packaging solutions." International Plastics has done just that for 65,000+ customers, many of which are "Fortune 500" companies in all 50 states and over 20 countries.
International Plastics manufactures, imports, and distributes all types of protective flexible packaging for a variety of industries. Specializing in poly/plastic bags, box liners, drum liners, reclosable zip-lock bags, retail shopping bags, trade show bags, poly tubing, and poly films, they are able to custom design and manufacture flexible packaging to just about any specification. Their website www.interplas.com boasts over 2,000 sizes of poly bags and over 6,000 packaging-related products ready for same-day shipping.
Over the past 50 years, International Plastics has established an industry reputation of "Operational Excellence." The corporate philosophy and policies are firmly based on their mission, vision and values. All associates are encouraged and empowered to make decisions based on those core principles. When asked about International Plastics' culture, VP of Operations Mark McClure said, "We work hard to exemplify 'The Golden Rule' in ALL relationships; employees, customers and vendors alike. The end result is not only found in satisfied customers and energized employees but in a company culture that is envied by our peers."
The 89 year old Patriarch long retired from the company still stops in to check on things from time to time. He says, "I have been blessed beyond measure to see what we started being fulfilled through the hard work of my kids and the many other associates of IP. I give all the credit and glory to God. I am not sure I could have planned it any better. I just wished my wife, Frances, was still alive to see to see how far it's come."
According to the Bureau of Labor and Statistics only 10 percent of companies survive 50 years or more. Of those that are family-owned, only 30 percent of them survive through the 2nd generation. International Plastics has defied the odds and it is proof that when things are done right they stand the test of time.
Sources
Page 153 of Greenville County, South Carolina: From Cotton Fields to Textile Center of the World
/info
http://data.bls.gov